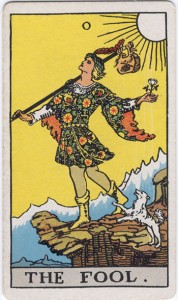 Podcast: Play in new window | Download


Attend to the fools, the jesters and the jokers. Fools in love, idiot winds, and three kinds of professional jesters, including the modern-day Stand-up Comic. Besides regulars Dylan, Ray Davies, and RLS, we have guest appearances from Frankie Lymon, Mothers of Invention, Danny Kaye, the D'Oyly Carte, Jonathan Swift, and a few others. The only way to be cool, is to let yourself first be a fool.
And take a look at our podcast on the Tarot Fool.
Essential Recordings 1955-1961 (Frankie Lymon and the Teenages, "Why Do Fools Fall in Love?")
Cruising With Ruben & the Jets (Mothers of Invention, "How Could I Be Such a Fool")
Blood On The Tracks (Bob Dylan, "Idiot Wind")
The Maladjusted Jester (Danny Kaye, "The Maladjusted Jester")
Other People S Lives (Ray Davies, "Stand-up Comic")
Magical Mystery Tour (Beatles, "Fool on the Hill")
Tags: Beatles, Crabbed Age and Youth, Danny Kaye, Dylan, Fool on the Hill, Fools, Frankie Lymon, Gilbert and Sullivan, Idiot Wind, Jesters, Jokers, Jonathan Swift, Magical Mystery Tour, Maladjusted Jester, Mothers of Invention, O A Private Buffoon, Ray Davies, Robert Louis Stevenson, Ruben and the Jets, Stand-up Comic, Tale of a Tub